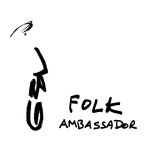 There have been two constants in my life: music and travel. As a Foreign Service Officer and former U.S. ambassador, I witnessed attempted coups, had lunch with Nelson Mandela, and saw two African dictators fall.  Four songs on Take It Personally (2010) provide colorful accounts of my years in Africa.
On the music front:
I am a founding member of the Duke Street Liberation Army Band, which released its debut album, Arsenal of Love, in 2014.
In partnership with veteran Austin musician and producer Stephen Doster, I have performed and conducted songwriting workshops in Swaziland (2012), Lesotho (2015), Mauritania (2016), Cote d'Ivoire, Djibouti and Eritrea as part of the U.S. State Department's Arts Envoy program.
In 2011, my song "Woody's Ghost" won first prize in the annual Woody Guthrie Folk Festival Songwriting Competition in Okemah, Oklahoma.  I played a set at the festival, and KTUL in Tulsa invited me to appear on Good Morning America for an interview and performance of the song.  I later added the two verses of "This Land Is Your Land" that talk about the poor and have long been omitted by the "sanitized" version of that iconic American song.  The song is now called "Woody Walks This Land."
Several of my songs have played on radio shows around the U.S., including Bob Sherman's iconic "Woody's Children" on WFUV New York, America's longest-running folk music show.