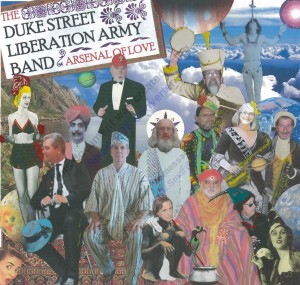 Released in 2014, Arsenal of Love is the debut album of The Duke Street Liberation Army Band, a group of aged hippies who have played music together since the early 1970s.  Recorded at Doug Smith's Shab Row studio in Frederick, Maryland, the songs offer up everything from R&R, R&B, folky love songs, & social justice finger-pointers, to wild old – style European Rants, to Country & Eastern music, to Pirate Sea Shanties, Mythical Blues, Tin Pan Alley, to mysterious hymns and I-won't-lay-down-and-die anthems – all original songs & all gathered here.
Cover art by John Terrazzo.
© 2014 The Duke Street Liberation Army Band (individual composers hold copyrights to their songs)
Greg Engle – songwriter, vocals, acoustic guitars, mandolin, dobro, ukulele & Irish bouzouki
John Terlazzo – songwriter, vocals, nylon-string guitar, Indian harmonium & Egyptian tar
Steve Seyler – songwriter, vocals & piano
Beth Landis – vocals
Michael Statler – harmonicas & vocals
Ryck Kaiser – violin
Bob Hoke – electric lead guitar, lap steel guitar
Rick Terlazzo – organ
Roy Frush – drums & percussion
Roy Smith – bass, fretless bass
Doug Smith – recording engineer, Techno-Fakir
Donna Lipman – additional harmonies on "How Much is Enough?" and
Karen Johnson – cellos on "What Your Beauty Does"
You can listen to Arsenal of Love on the SoundCloud  player below.  If you would like to download the songs or purchase the CD, please click here.
Click within the SoundCloud pane to scroll to all fifteen songs and click over a title to listen to a song.
Click the arrows within the gallery pane to view the slideshow
[Best_Wordpress_Gallery id="5″ gal_title="DSLA"]