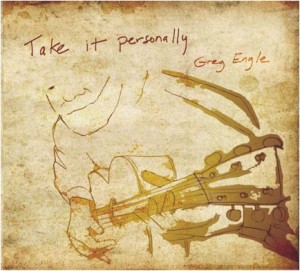 Take It Personally, Greg Engle's debut album, contains ten original songs of life, love and Africa.  It represents his first collaboration with veteran Austin producer Stephen Doster.  "What attracted me to Greg's music was its sheer authenticity," says Doster.  "He's lived the stuff he's singing about, and that really comes through."
Doster keeps their guitars and Engle's vocals out in front while enlisting some superb Austin musicians to bring the songs to life: Chris Maresh (bass), Dony Wynn (percussion), Rolf Ordahl (keyboards), Brian Standefer (cello), and Joel Laviolette (marimba/mbira).  Devon Guliford, Erin Ivey, Donna Lipmann, James Stevens, and Doster provide back-up vocals, and Nick Classen plays the bagpipe cameo.
James Stevens recorded and mixed the album at EAR in Austin.
Cover art is by Jess Engle (orwellsadventures.com)
© 2010 Gregory W. Engle/Dip Note Music (BMI)
You can listen to Take It Personally on the SoundCloud player below.  If you would like to download songs or purchase the CD, please click here.
Click cursor within the SoundCloud pane, scroll to see all ten tracks and click over the song title.